Responsible Gambling
Palatial Leisure Limited is committed to operating our land based bingo, casino and websites in a fair, open, legal, secure and socially responsible manner and we take great care to ensure that this is the case. We have put in place a number of measures to ensure that the entertainment that we offer remains just that, entertainment.
Preventing Underage Gambling
In our clubs, we keep a constant vigilance for persons under 18 attempting to use our gambling facilities. We take whatever steps are required to verify the age of our customers when required so please do not be offended if we ask you for documented proof of your age – take is as a compliment, you must look youthful!
In addition, to gamble on any of our websites you must be aged 18 or over, it is illegal for you to gamble on our websites if you are under 18. We display warnings regarding minimum age and we prevent anyone under 18 from registering to play. We also use an industry leading age verification system to automatically check that our players are 18 or over and may also carry out manual age verification checks. Please see the (link – responsibility page) on ThePalaces.com for detailed information about our social responsibility measures.
Staff Training and Awareness
All Palatial Leisure Limited management and customer support staff receive training on issues regarding social responsibility and problem gambling.
Helping You Stay In Control
Self Help Questions
Gambling is a source of entertainment but, for some people, this is not the case and it stops being fun and starts to become a problem.
It may help you to keep control by remembering the following:
Gambling should be entertaining
Gambling should never be considered as a way of making money
Only gamble what you can afford to lose
Never borrow money to gamble
Keep track of the time and money you spend gambling
The following self-test questions may help you to consider if gambling is a problem for you. Ask yourself the following questions:
Have others ever criticised your gambling?
Have you ever lied to cover up the amount of money or time you have gambled?
Do arguments, frustrations or disappointments make you want to gamble?
Do you gamble alone for long periods?
Do you stay away from work, college or school to gamble?
Do you gamble to escape from a boring or unhappy life?
Are you reluctant to spend 'gambling money' on anything else?
Have you lost interest in your family, friends or pastimes due to gambling?
After losing, do you feel you must try and win back your losses as soon as possible?
When gambling and you run out of money, do you feel lost and in despair, and need to gamble again as soon as possible?
Do you gamble until your last penny is gone, even the bus fare home or the cost of a cup of tea?
Have you lied, stolen or borrowed just to get money to gamble or to pay gambling debts?
If you find yourself answering YES to any of these questions then you may have a gambling problem and the more questions that you answered yes to, the more of a problem it may be and we would highly recommend getting some help as soon as possible.
Getting Help – GamCare
If you think gambling is becoming a problem for you then there are many avenues to turn to and we strongly suggest that you take those steps to get help.
There are several organisations and charities that can help you to understand the problem and provide assistance in dealing with it.
GamCare is a charity, mainly funded voluntarily by the gambling industry, that provides information, advise, support and free counseling for the prevention and treatment of problem gamblers and their families.
They can provide confidential assistance via their phone helpline and online equivalent, NetLine, as well as through one to one information, support and counseling services.
GAMCARE HELPLINE:   +44 (0) 808 8020 133 (24 Hours)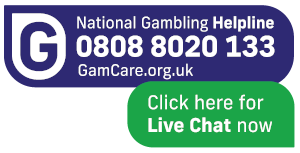 Self Exclusion
One way that we can help you is by giving you the opportunity to exclude yourself from our clubs and websites for a period of time between 6 months and 5 years.
Self exclusion removes the temptation and our management staff will help you by ensuring that you do not access any of our premises or websites. The Self Exclusion will become effective and binding as soon as you request it. We are also a member of the Sense program so your Self Exclusion will apply nationwide.
Lifting the self exclusion at the end of the period would require you to contact us in person or over the phone and would always be subject to a 24 hour cooling off period.
If you wish to Self Exclude, please see a member of staff or call any of our clubs where our staff will be able to assist.
We Are Here To Help
Please remember, we want your bingo and casino games to be fun, not a problem, so if you need help then just ask, we will do everything we can.
Complaints
Our complaints procedure is detailed here on our website or, if preferred, we will provide a copy of our complaints procedure on request.
All complaints must be notified to the Duty Manager, on the same session where possible. Initially it will be considered by the duty management at a local level, namely in the premises where the incident resulting in customers concern or complaint actually took place.
The manager or staff member will ensure at the time the complaint is made and documented that;
Customers are told the name and status of the person to contact about their complaint;
Customers are given a copy of the complaints procedure leaflet;
Customers are advised that all complaints are handled in accordance with the content of the leaflet; and
Customers will be advised that those complaints/disputes which are not resolved to their satisfaction by use of the Palatial Leisure Limited complaints procedure may ask that their complaint/dispute be referred to an ADR for review and further consideration of the circumstances.
Any complaints that the Duty Manager is unable to resolve on the session must be referred to the General Manager of the club. The General Manager must respond in writing to all written complaints within 14 days of receipt of the complaint.
Any complaints received at Head Office relating to a club will be referred in the first instance to the club General Manager for investigation.
All investigations will be conducted by the General Manager within 14 days of the complaint and the outcome of the investigation will be communicated in writing to the complainant within 7 days of the conclusion of the investigation.
In all cases of written or verbal complaints that result in an investigation, the complainant will be advised of their right to take the complaint to the Managing Director, if they are not satisfied.
Details of all written complaints and written responses to complaints will be held for at least two years. The Complaints and Disputes Policy forms part of Palatial Leisure Limited's Terms and Conditions.
All complaints should be kept confidential by the Complainant whilst both parties seek a resolution. All complainants agree that they shall not disclose the existence, nature or any detail to any 3rd party. If they do, then this shall be considered a breach of the Terms and Conditions and we will no longer be obliged to continue seeking a resolution to the complaint or dispute and shall be entitled to freeze (or close) any accounts and refuse entry to the premises.
A copy of the complaints procedure is available for all customers on request.
All recorded customer complaints should be sent to Patrick Duffy at [email protected]