The Great Yarmouth Palace
Address:
The Great Yarmouth Palace
Church Plain
Great Yarmouth, Norfolk
NR30 1PL
Phone: 01493 844455
Opening Times
Open 7 days a week – 10:30am – 11:00pm
Situated on your right as you approach Great Yarmouth from Norwich, it is just on the edge of the market place in Church Plain – about 300 yards from the Market Gate shopping centre.
We have 150 car parking spaces on the roof and you can gain entry by driving up the ramp on the right hand side of our main entrance.
This club was opened on 7th July 2005 and it is number 1 for luxury and comfort along with the best value in bingo, food and drinks. Lunches are still only £1.50 before 12pm* and free at the Emerald Club every Monday morning.
*When purchased with main session books
The club has full facilities for the disabled with easy access and a lift to the car park.
Afternoon Session
All Days
11:30am: Breakfast Club
12:00pm: Blue Cashpot
1:00pm: Two Game Early Link
1:30pm: Main Session
2:30pm: Second Session
3:15pm: Late Flyer
Evening Session
All Days
6:15pm: Blue Cashpot
7:00pm: Two Game Early Link
7:30pm: Main Session
8:30pm: Second Session
9:30pm: Gold Cashpot
Ticket Prices
Players can choose one of our paper or electronic packages, which include tickets to the Main Session, National Game, Americano (x2), Palace Link and Big Link games. The electronic packages are known in the club as 'PALS' and include the touchpad and license fee. They are best value as you get more main session tickets for your money than buying paper books alone.
You can also buy individual books for each of the bingo sessions if you prefer. See in club for individual pricing on each of these games.
In addition to the packages, you can also purchase extras including the Blue Cashpot (£1), Gold Cashpot (£1), Late Flyer (£1) and Two Game Early Links (£2). Our latest session packages for the week ahead can be found below: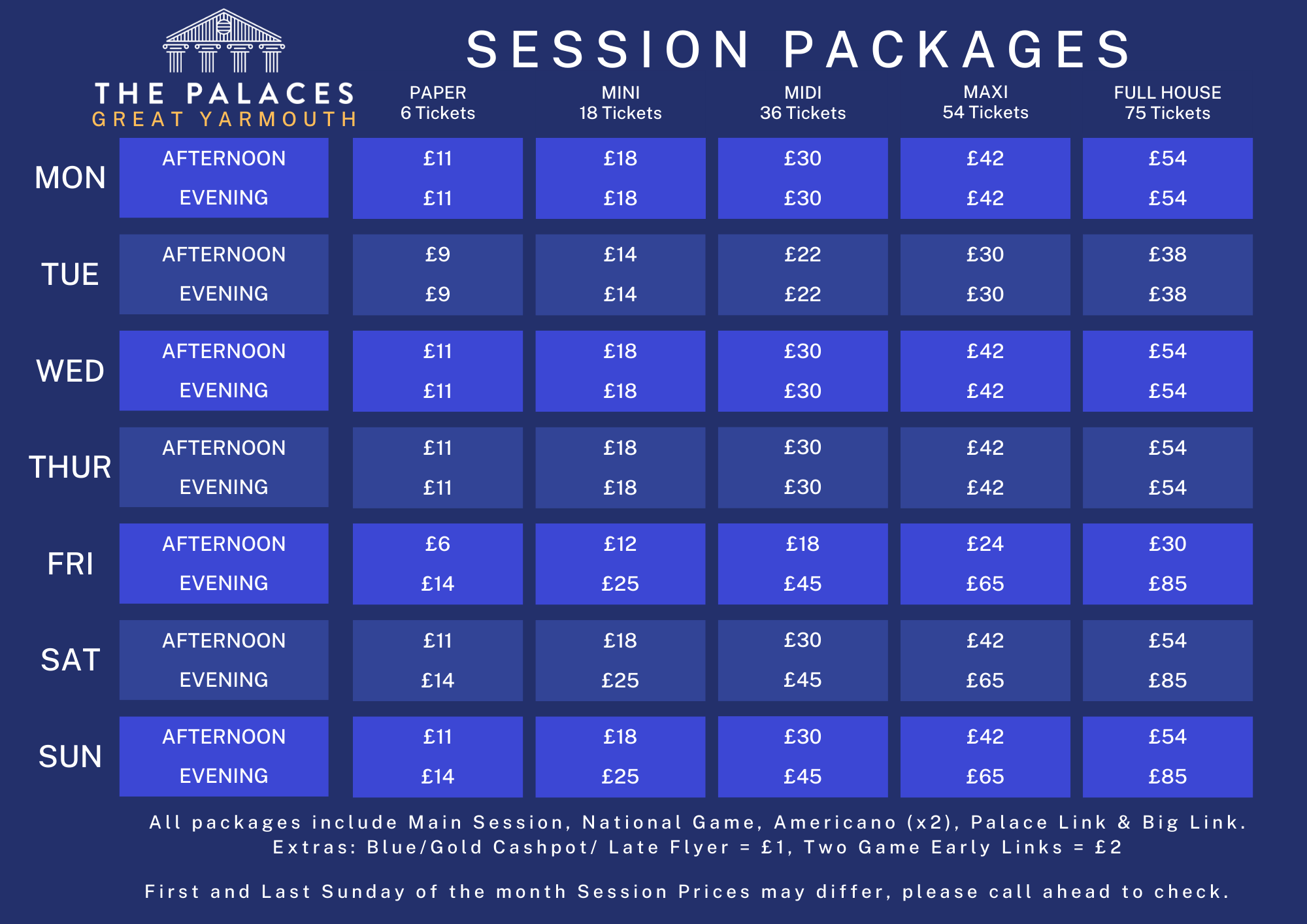 Food & Drinks Menu
You'll find a wide selection of delicious food and drink available here at
The Great Yarmouth Palace.
Kay's Diner Menu
Freshly Made Home Cooked Meals
MEDIUM £6 OR PREMIUM £7
Lasagne
Cottage Pie
Sweet Chilli Chicken
Chicken Curry
Sweet And Sour Ribs
Dishes Of The Day
Served with a choice of chips, creamed potato or rice and includes vegetables on display
SOUTHERN FRIED CHICKEN
Medium Leg £6.00
Premium Breast £7.00
Hunters Chicken £6.00
Premium Hunters Chicken £7.00
CHIPS
Medium £2.00
Premium £3.00
Gravy £0.50
BBQ Sauce £1.00
Curry Sauce £1.00
Cauliflower Cheese £2.00
Vegetables £1.00
Sides (including salad) £2.00
BRITISH FAVORITES
Bacon Butty (2 slices) £3.20
Sausage Bap (2 sausages) £3.20
Extra Sausage (each) £1.00
Garnished With Mini Chips £4.20
FRESHLY MADE SANDWICHES
Medium £2.90
Premium Garnished With Salad And Crisps £3.90
TOASTED SANDWICHES
Premium Cheese £5.50
Premium Cheese And Ham £5.50
Premium Bacon And Ham £5.50
All garnished with salad, mini chips and crisps
CHEESY CHIPS
Medium £3.00
Premium £4.00
Premium Menu
PREMIUM COOKED TO ORDER
Delivered to your table, slot or dine in the restaurant
12.30 PM TO 2.30 PM 6 PM TO 9 PM
CHEESE AND BACON BURGER £8.50
6oz premium burger topped with bacon and melted cheese, garnished with fresh salad and served with chunky chips
SIRLOIN STEAK £16.00
Tender 8oz prime locally sourced sirloin steak cooked to your liking, garnished with salad and served with chunky chips, mushrooms and tomato
NORFOLK GAMMON STEAK HAM AND EGG £9.00
Grilled gammon steak topped with a large Norfolk free range egg, garnished with salad and served with peas and chunky chips
HAM AND EGG £8.50
3 slices of prime Norfolk ham topped with two large Norfolk free range eggs, garnished with salad and served with peas and chunky chips
BEER BATTERED COD £9.00
Traditional freshly battered British fish and chips garnished with fresh salad and a choice of garden or mushy peas
WHOLE TAIL SCAMPI £9.90
7 pieces of freshly cooked whole tail scampi garnished with fresh salad, lemon served with chunky chips, garden peas and tartare sauce
STARTERS
SOUP OF THE DAY £4.00
Served with warm crusty roll or white sliced bread and butter
DEEP FRIED CHICKEN GOUJONS £4.90
3 large deep fried chicken goujons served on a bed of fresh salad and saucy sauce
PRAWN COCKTAIL £5.50
Succulent prawns served on a bed of fresh salad with delicious cocktail sauce and brown wholemeal bread and butter
BATTERED MUSHROOMS £4.90
Premium battered mushrooms deep fried and served on a bed of fresh salad
DEEP FRIED COD GOUJONS £4.90
3 large deep fried battered COD goujons served on a bed of creamy mash or salad with tartare
SWEETS
HOME COOKED SWEET OF THE DAY WITH CUSTARD
Medium £2.50
Premium £3.50
GATEAUX FROM OUR DAILY SELECTION
Medium £3.50
Premium £4.50
Bar & Wine Menu
Draught Beers (Pint)
Carlsberg £4.50
Tetley £4.50
Somersby Cider £4.50
Guinness £4.90
Carlsberg Export £4.90
Bottled Beers
Smirnoff Ice £4.00
Budwiser £4.00
Corona £4.00
Tsingtao £4.00
WKD £4.00
Magners Cider £4.50
Kopperberg Cider £4.50
Newcastle Brown £4.50
Wines
DRAUGHT WINES BY THE GLASS
Medium £4.00
Large £5.00
Bottles £15.00
Prosecco £22.00
Spirits
Whiskey £3.30
Gin £3.30
Vodka £3.30
Courvoisier Brandy £4.00
Flavoured Spirits £4.00
Dashes
Standard Dashes £0.60
Large Dashes (1⁄2 pint glass) £1.00
Soft Drinks
Red Bull £2.90
J2O £2.90
Appletise £2.90
Large Juices £2.90
Bottled Water £2.00
Cans Of Soft Drinks £1.00
Draught Soft Drinks
Coke (Pint) £2.00 – (Half) £1.00
Lemonade (Pint) £2.00 – (Half) £1.00
Fanta (Pint) £2.00 – (Half) £1.00
Snacks
Nobby's Nuts £2.00
Sahara Nuts £2.50
Crisps And Chocolate All £1.20
Hot Drinks
Tea/Coffee (Disposable Cup) £1.00
Hot Chocolate / Cappuccino / Latte
(Disposable Cup) £2.00
Tea/Coffee (Mug) £1.50
Hot Chocolate / Cappuccino / Latte
(Mug) £2.50